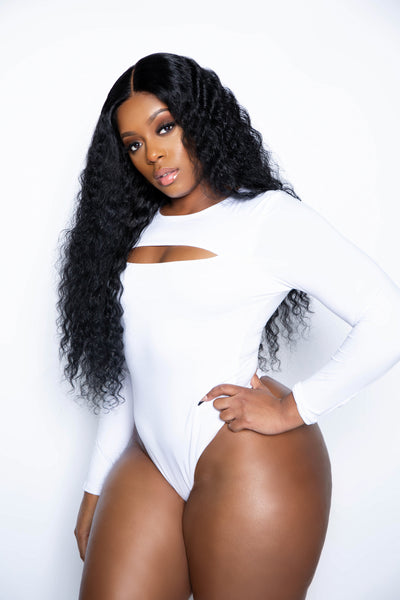 This curly unit is fun and low maintenance.  
Simply just wet it and go, no need for any styling. 
Available ONLY in a HD 5x5 Closure (which is great for beginners). 
YOU CAN MOVE YOUR PART AROUND IF YOU CHOOSE.
WHEN WILL MY ORDER SHIP?

It takes 5-7 business days for all wig orders to be processed. Once it has been processed, it will be shipped based on the method that you chose during checkout. 
 We do offer expedited wig services. Just make sure to add it to your order. If you need your wig ASAP send us a message via the "Chat With Us" icon below.
If you choose overnight shipping, you MUST place the order by 11am EST or the order WILL NOT be eligible for overnight shipping. It will ship next business day. 
Remember processing time is not the shipping time frame. Processing time is the timeframe in which it takes us to process your order. Shipping time is the timeframe it takes for you to receive your order.
HOW MANY BUNDLES ARE RECOMMENDED?
2 bundles of hair for lengths 12"-18"
3 bundles for lengths 20" or longer
4 bundles for lengths 26" or longer
Each bundle weighs 3.5-4 ounces (depending on hair length/type).
DO YOU OFFER REFUNDS?
We do not offer refunds, EXCHANGES ONLY. If you have ordered a custom made wig, once you have ordered there will be NO REFUNDS. We are more than happy to fix any issues you have with the products you received. All exchanges must be returned within 3 business days that you received the item in the original packaging/condition. If these terms are not met the product will be shipped back to you and no exchange or store credit will be granted. We are not responsible for any lost/stolen/damaged products.
ALL SALES ARE FINAL

Effective April 2020:

In order to keep everyone safe all sales are final. If there is something cosmetic wise wrong with your unit we can rectify it, however we can not accept any returns and resale the unit. 

CAN I USE AFTERPAY FOR MY ORDER?
Sure! We can't accpet Afterpay online however if you want to use the Afterpay option simply chat with us by clicking on the chat icon below or call us directly  404-508-1007. We will then take your order and send you a invoice to pay via Afterpay.
 CAN I COME IN STORE TO PLACE MY ORDER IF I AM LOCAL?
Yes you can come into our store and place your order. Orders can be placed in store Tuesday-Friday 9am-5pm. 
I NEED HELP WITH DECIDING WHICH WIG I SHOULD PURCHASE, DO YOU OFFER CONSULTATIONS?
Yes we offer free virtual consultations. You may book your free virtual consultation by clicking here.